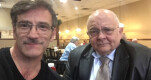 Does it seem like these guys have known each other a long time? Read why here...
Have you noticed these two guys chatting a lot?
Pastor Gary and Boyd Williston have a bit of history.
In 1978 Pastor Gary attended the Open Door Baptist Bible College in KCK. This was a ministry of the Open Door Baptist Church at 701 Washington Blvd. It's purpose was to train pastors and missionaries and Christian workers.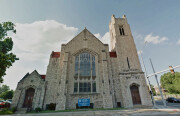 During his second year at the Bible College Pastor Gary had the choice to take biblical Greek, which he elected to do. The class was taught by Boyd. Gary found he appreciated Boyd's teaching style and love the subject matter. The idea of translating from the original texts fascinated Gary, especially issues related to translation philosophy.
The Bible College offered 2 years of Greek with a third option. Gary took the third, and the bond between the two was set.
So if you see them chatting and sharing what seem to be stories of things from their past...you will understand why!