Only two kinds of people.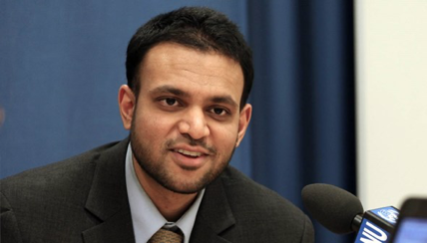 Rashad Hussain is the new U.S. ambassador-at-large for international religious freedom. He was confirmed by a Senate vote of 85 to 5. Hussain was confirmed by the U.S. Senate on Thursday (Dec. 16) by an overwhelming vote of 85 to 5. Hussain has degrees in philosophy, political science, and Islamic Studies as well as a doctorate in law (JD) from Yale Law School. For his studies in philosophy, he wrote on the theistic implications of big bang cosmology. He has served on the US National Security Council and the Department of Justice as trial attorney and a criminal prosecutor. He is, as far as I can tell, an impressive candidate.
Hussain is the first Muslim American to fill this role.
In previous generations it was unheard of to see a Muslim hold any influential positions. In fact, not that long ago Americans were fearful of a Catholic becoming President—fearing his allegiance to the Pope would compromise any allegiance to the American people. We are living in a day when such narrow tolerances can no longer drive the gears of the American machine.
Census Bureau numbers of 2020 showed that 4 out of 10 Americans are non-white. The decade was the first in which white American was in decline. The "white alone" household category declined by 8.6% since 2010. The multiracial population is said to have increased 276% since that same year.
Ours is a very ethnically diverse country—and the diversity is quickly increasing. Naturally, ethnic diversity means religious and worldview diversity...a kind of cultural pluralism that makes many American Christians uncomfortable. What does this diversity mean for "Christian America"? What are we to make of this biblically?

Spiritually speaking, we probably see more diversity than we should see. We like to micro-analyze sociologically and differentiate people groups, breaking them down as far as possible from community to vicinity to tribe to sub-tribe. Scripture is a bit less divisive in its rundown of humanity: there is light and darkness; truth and error; the kingdom of heaven and the kingdoms of men. Where we see a nearly limitless number of kinds of people, God sees two: those who are His and those who are not. Jesus indicated that his own would always be outnumbered in this life (Matt. 7:14). Scripture refers to the system dominated by those outside of Christ as the "world"--a global collection of systems run by the values of the unredeemed (Matt. 13:38a; Jn. 1:10; James 4:4; 1 Jn. 2:15, 3:13, 5:5, etc.). By definition it stands in contrast to the "Kingdom of God."*
So when I hear nervous announcements and blogging about a coming "One-World Government" (announcements that have been in vogue since Hal Lindsey was a best seller), I think to myself "We already have one!" Scripture sees the world united in its common commitment to self-define and self-rule without any reference to God as He has revealed Himself in Christ. Our world is a "one world" ensemble of governments united against Christ (2 Cor. 4:4).
The assorted varieties of human kingdoms will only get so good. They will always be "kingdoms of men." One of the best things we can do to ensure any acceptable quality in them is to afford men and women the freedom implied in a call for persons to accept the gospel. Thus, I wholeheartedly wish the best for Mr. Hussain as he works to "advance the right to freedom of religion abroad" (United States Commission on International Religious Freedom, article 6411).
* There is a whole discussion to be had here about some who have historically suggested that human kingdoms can be transformed into God's kingdom by a lot of political restructuring. I think this is misguided for a number of reasons and it tends to produce political versions of Christianity that do little to affect realization of God's Kingdom in our day.