Religion that nearly drove Luther mad.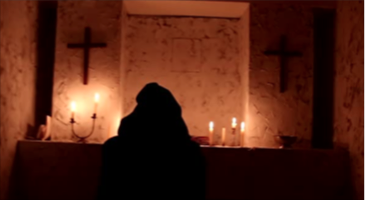 It nearly drove him mad.
As a monk, Martin Luther agonized over the state of his soul. A particular strand of late Medieval theology had taught him that his relationship to God depended on him "doing his best." The gospel that Luther was taught depended on him, not God. One of the great challenges of this kind of theology is that it leaves one constantly asking when "best" is good enough. Luther found no way to answer this question. His agonies struggling through spiritual uncertainty he referred to as his anfechtungen, or spiritual trials.
To make matters worst, a very rigid understanding of "contrition" (sorrow over one's sin) was being taught that set the bar for "genuine" contrition very high—suggesting that much, if not most, contrition does not meet the standard. Luther began to see the faith as a system of condemnation, not hope in Christ.
Obviously Luther found hope. How did he get there?
That is a very involved story with many moving, providential parts. In short, he came to see the gospel as God graciously giving man a righteousness he could never achieve. The "righteousness of God" is a righteousness he gives in Christ, not a standard to achieve. It is God who initiates and completes salvation. It is true that faith is a condition of salvation, but it is not the cause of salvation: we are saved by grace alone, through faith alone, in Christ alone.
The difference in this understanding of the gospel was enough to ignite a reformation of the church, profoundly impact western history, and ultimately fuel missionary movements that would cover the globe.
Luther's legacy is the preaching of the gospel of grace that contradicts the performance-based approach that tortured him as a young monk. And though a lot of sand has fallen through the hour-glass of time, things have not changed that much. Churches still preach performance-based "gospels" that tell people to "do their best" in hopes that it will be good enough to merit God's favor.
The Reformation that began 504 years ago is still needed today. We who have been delivered from the condemnation of a performance-based pseudo-gospel have the opportunity to continue the work. Many people are trying to "do their best" and left with a lack of spiritual assurance. Be the Reformer. Help them find the assurance of salvation found in God's grace alone.
Martin Luther posted a list of theological ideas on October 31, 1517 that would ignite the Protestant Reformation. Remembering this event, October 31st is known as "Reformation Day."